Do you struggle with any of these kinds of questions:
How much protein should I eat?
How many carbs should I eat?
How much fat?
How many calories?
How often should I workout?
Should I do cardio or lift weights?
How do I properly recover from my workouts?
How do I avoid injuries?
And most importantly….
HOW CAN I MAKE ALL OF THIS SUSTAINABLE?!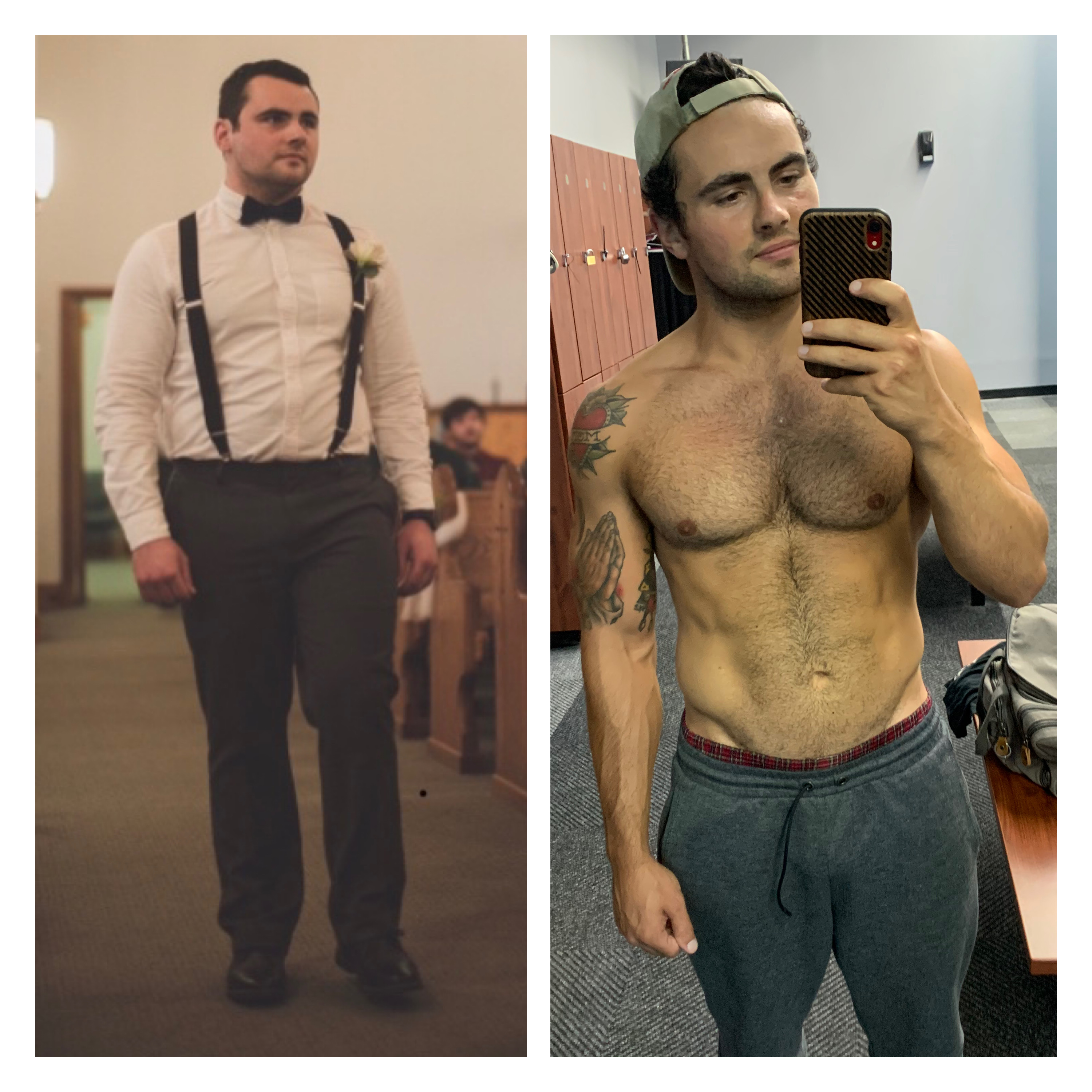 It wasn't until after I saw pictures of myself at my best friend's wedding back in January of 2018 that I began to dig deep into finding the answers to all of these questions.
He asked me to be a groomsman at his wedding in September of 2017 and soon after he told me what he wanted all of the groomsmen to wear. A white oxford shirt, a bow tie of his choosing, and some gray slacks with suspenders. I already had a white oxford that I had bought from H&M years before, so I figured I would wear that instead of buying a new one. It fit me perfectly when he asked me to be a part of his wedding...
But by the time his wedding rolled around, I had gained so much weight that the same white oxford barely fit me anymore! In just four short months, I had managed to truly let myself go. I was disgusted when I saw the pictures of myself.
Sure, I could have blamed it on college finals. After all, finals week for a chemical engineering student at the University of Maryland was no time to joke around or waste time exercising.
But I chose to take responsibility for my actions.
I had gained tons of weight because I wasn't prioritizing my fitness or nutrition, nor did I inherently know what I was doing when I did prioritize it! After the wedding, I decided to take better care of myself. 
Conveniently enough, the next semester I took biochemistry of physiology, and it taught me the fundamentals of how our body works as a chemical process. 
Why do we need fats, carbs, and proteins? 
What exactly is our metabolism and how does it work? 
What truly creates fat loss? 
What the heck is ketosis? 
What happens when our bodies enter survival mode? 
Is there a biochemically optimal way to train?
All of these questions became clearer after I acquired a better understanding of all of the underlying biochemical principles that go into the thermodynamics of our cells. I spent 4 years studying chemical processes in chemical engineering school, and the first example of a chemical process that comes to mind every single time is the human body.
The human body consists of systems that intricately work together. These systems include the following:
The muscular system
The central nervous system
The digestive system
The immune system
The reproductive system
The endocrine system
The circulatory system
The skeletal system
The respiratory system
These systems are the most relevant when it comes to optimizing our fitness and nutrition, and all of them work together for better or for worse.
The good news is that you do not need to be a biochemist or a cellular biologist to become familiar with how these systems work together.
Fitness and nutrition have made such a profound difference in my life, and that's why I developed the Axle Fitness and Nutrition Course.
Imagine what your life could be like a year from now if you had all of the tools to maintain a consistent fitness and nutrition protocol
How about two years from now? Or three? How about what your body could be like by the time you retire?
The principles in this course are so powerful that you truly will be able to design a regime to achieve consistent results in both your fitness and nutrition endeavors.
After completing this course, you will be able to do the following:
Differentiate among the roles of fats, carbs, and proteins 
Understand what truly creates fat loss and fat gain 
Distinguish between your body's survive and thrive states 
Appreciate the power of micronutrients in the body 
Recognize the connections between nutrition and training 
Understand the role training plays in improving your body composition 
Define common workout terms like "progressive overload" 
Differentiate between compound lifts and isolation exercises  
Design effective weight lifting regimes that you will love 
Incorporate proper cardio into your routine  
Avoid injuries commonly associated with lifting weights 
Recover so that your body will adjust to training requirements 
Understand how you should not train 
Integrate a few effective supplements if you so choose
Nutrition is a powerful force that can either destroy your body from the inside out, or it can fuel your body's natural desire to thrive. I'll teach you everything you need to know so you can use nutrition to reach your body's true potential.
These principles changed my life and I want nothing more than to share them with you so you can experience the same.
I hope to see you inside, my friend.
Axle Fitness and Nutrition Course Curriculum
Frequently Asked Questions
Is the course for both men and women?
Of course! The path to building a strong, functional body truly is the same for both men and women. The difference is in which areas you will want to build strength.
How long before I see results?
You will see improvements in your strength within three weeks, and I can guarantee that you will be lifting much heavier weights within 90 days OR YOUR MONEY BACK plus you get to keep the course and all future updates on it.
I'm on the heavier side, will I still see progress?
Absolutely! Getting stronger will improve your body's lean muscle mass to body fat ratio, and I give extremely effective cardio recommendations that will aid in fat loss.
Is there some kind of money back guarantee?
I'm so confident that you'll not only know how to get stronger but you will get stronger after taking my course that I offer a 100% refund within 90 days of purchase AND you still get to keep the course with all future updates on it.
What if I don't see results?
The only way that you won't see results is if you don't apply the knowledge that you will gain from the course. The entire purpose of it is to teach you how to make a workout routine that you will sustain. If you can do that, you will achieve your desired results.
Do you have questions of your own? Send us an email at [email protected] or send us a message on Facebook or Instagram to find out more!
Meet Your Instructor,
Benjamin Richardson
Benjamin Richardson is a graduate of the chemical and biomolecular engineering department at the University of Maryland. He is passionate about teaching people how fitness, nutrition, and exercise play key roles in their everyday lives.
He is a member of the National Council on Strength and Fitness and has hosted several seminars at colleges and businesses to teach individuals how to live healthier lifestyles. His background includes organic chemistry, cellular biology, biochemical physiology, bioengineering, and metabolic pathways.
Please Note: The author of this site is not engaged in rendering professional advice or services to the individual reader. The ideas, procedures, and suggestions contained within this work are not intended as a substitute for consulting with your physician. All matters regarding your health require medical supervision. The author shall not be liable or responsible for any loss or damage allegedly arising from any information or suggestions within this blog. You, as a reader of this website, are totally and completely responsible for your own health and healthcare.